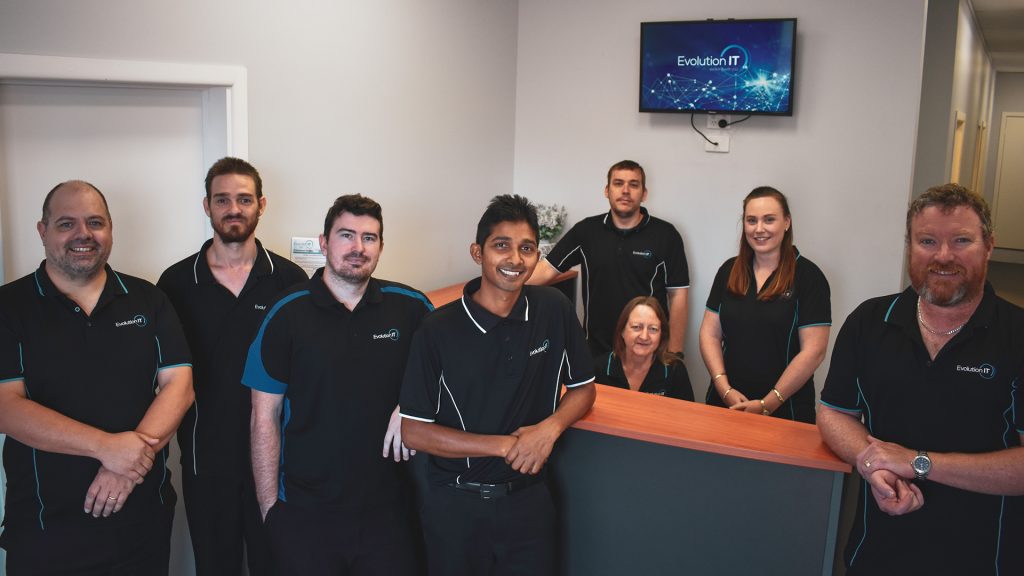 Brett Douglass
Holds the position of Director and Senior Technician, he oversees all our projects as well as liaises with our clients, building strong long-term relationships through effective communication and quality customer service. Brett founded Evolution IT in 2006 following a career path and passion for the industry.  Brett has worked in the IT industry since 1995 with proficiency spanning from Networking implementation, troubleshooting, Server builds and installations to computer repairs and maintenance. Brett has had the opportunity to personally setup complete communications for remote mine sites and has handled ongoing flyin flyout operations through various client requirements. He has experience in a wide range of software applications supporting many and varied industries during this time. This enables him to deal effectively with the challenges that can be met on day to day issues.
Ellen Douglass
Holds the position of Office Manager within Evolution IT. Ellen has previously worked in administration roles for over 20 years. She is an experienced office manager, with proven leadership and management abilities.
Ellen handles all of Evolution IT's quoting and purchasing functions, along with Service Coordinator completing ticket dispatching to ensure the technicians are onsite or remotely assisting our clients promptly and efficiently.
Our Technicians
With 5 other technicians on board at Evolution IT we can ensure our client's needs are met in a timely and professional manner.
Our technicians experience ranges from 2 years to 30 years, giving us extensive knowledge in our industry and other fields.
With our team's extensive technical and administrative knowledge, Evolution IT is able to promptly provide the best product solutions possible, at competitive prices.
Jason Cole
Brings to the team 30+ years knowledge in Networking, Audio Visual, and IT areas.  Jason has worked with business clients and home users and knows the importance of communication to ensure our clients understand the IT lingo.
Luke Abbey
Has been with Evolution IT for over 4 years, bringing with him help desk and remote support experience from a national telco. Luke holds a Cabling License and is experienced with laptop, tablet and AIO repairs.
Suranga Meegoda
Suranga comes from Sri Lanka and has been working in IT for over 12+ years.  Suranga has vast knowledge with Network troubleshooting with proficiency in Cisco architecture and data centers and experience with data and information security.
Scott Leathers
Works as the Marketing, Social Media and Website Design guru at Evolution IT.  Scott has over 18 years experience in Website Design, Multimedia and Networking.  His knowledge in Social Media and Marketing enables Evolution IT to have a better presence online, which we also offer to our clients as a service.  This gives Evolution IT the ability to ensure our clients are not only supported with IT, but also building their business through online presence.
Michael Warren
Has been working in IT for over 2 years and moved to the Industry after over 18 years of IT and programming as a hobby.  Michael's knowledge has grown vastly during his time at Evolution IT and is working on all forms of troubleshooting from Computer Repairs to Networking issues.
Pam Duckworth
Works in the accounting section of Evolution IT and brings with her 30+ years' experience. Pam has worked with many accounting software packages and handles all debtor and creditor functions.